Welcome to McCormick Books

With an emphasis on genealogy and local history items, we also carry a wide selection of books on other subjects. Please search or browse our on-line inventory . If you cannot find what you like, fill out our off-line search form and we will advise you if the book becomes available.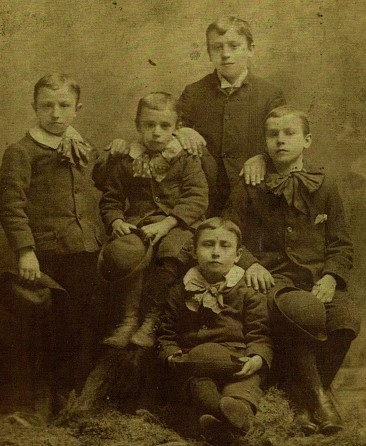 This is a photograph of my great-granduncles taken about 1888. These five boys are the sons of Joseph Adametz and Barbara Schneider, cigar makers from Bohemia who lived in New York City tenements before removing to Detroit, Michigan. That is Oscar in the middle, Joseph up in front, Charles in back, William standing on left and Louis sitting on the right.
Struggling nineteenth century immigrants expected their children to contribute, and all of the Adametz children worked at cigar making. Their stories are told in the newly published book, History of Joseph Adametz of Kutná Hora and Allied Families, copies available for sale here.


We are always interested in purchasing quality books, collections, and libraries! Please contact us for more information.